Configured to your needs
A wide range of configuration options will allow you to adjust the process to the reality of your organization.
Completely paperless
Thanks to the use of a web application and a mobile application you will perform the entire auditing process without a single piece of paper.
Instant reporting
All reports, charts and summaries are available in real time in various scopes and time ranges.
Effective planning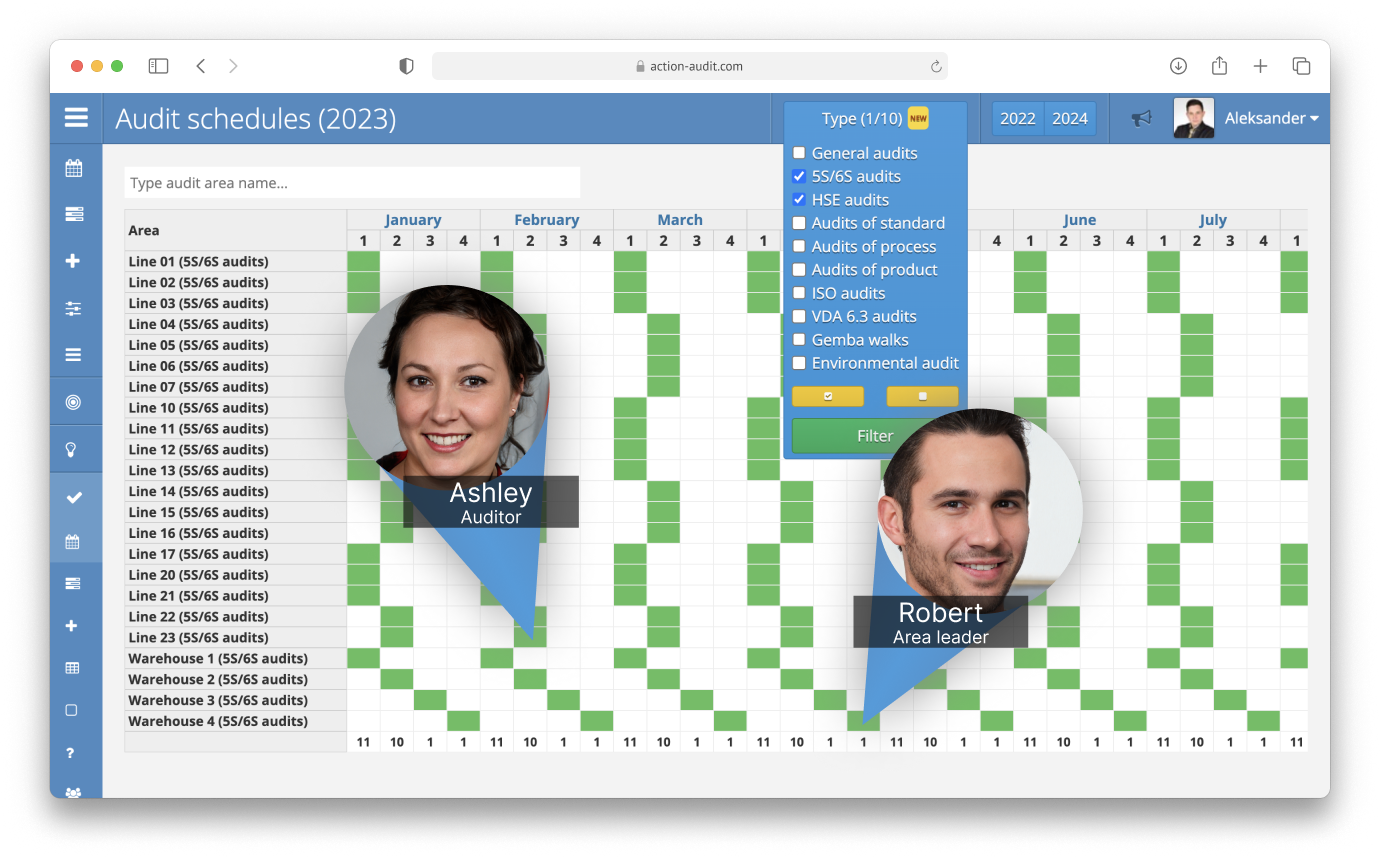 Action Audit, thanks to its planning and management functions, will allow you to maintain control over the audit process. By automating most of the operations that were previously performed manually, you will be able to devote yourself to other key activities.
A clear schedule allows you to schedule audits of different frequency, from daily, through weekly and monthly, to quarterly and even annual.
Flexibility in managing checklists, groups of auditors and audit parameters will allow you to model the audit process in line with expectations.
Transparent management panel
All audit types in 1 place
Support for Layered Process Audits (LPA)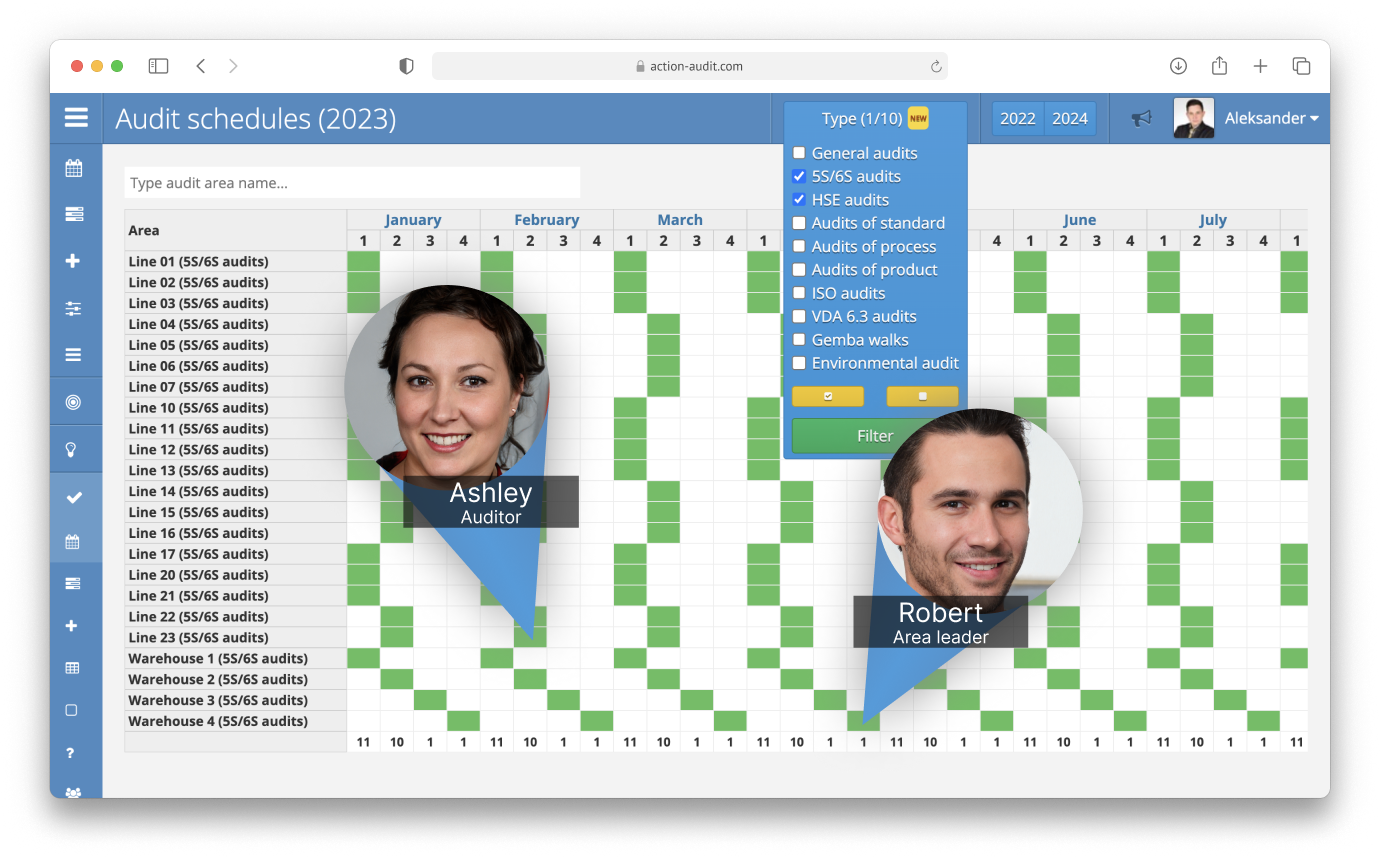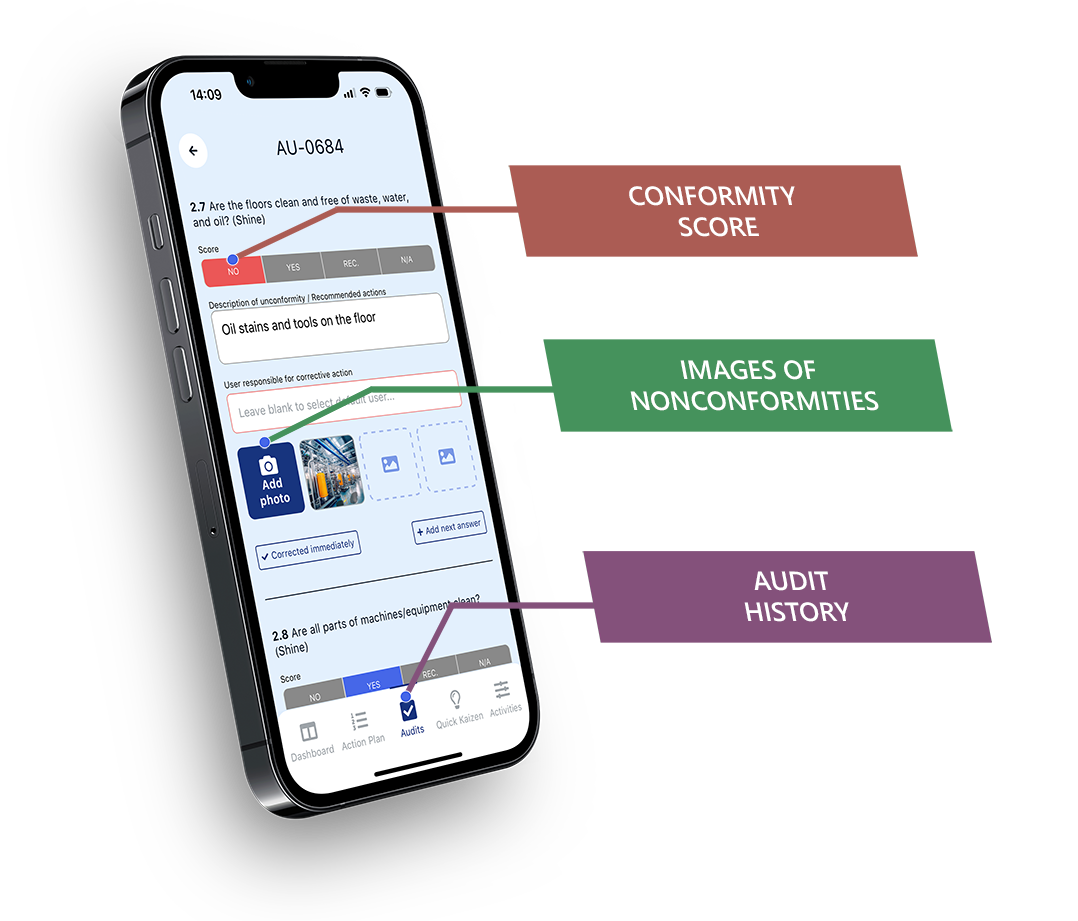 Audits in the mobile app
Auditing has never been so convenient!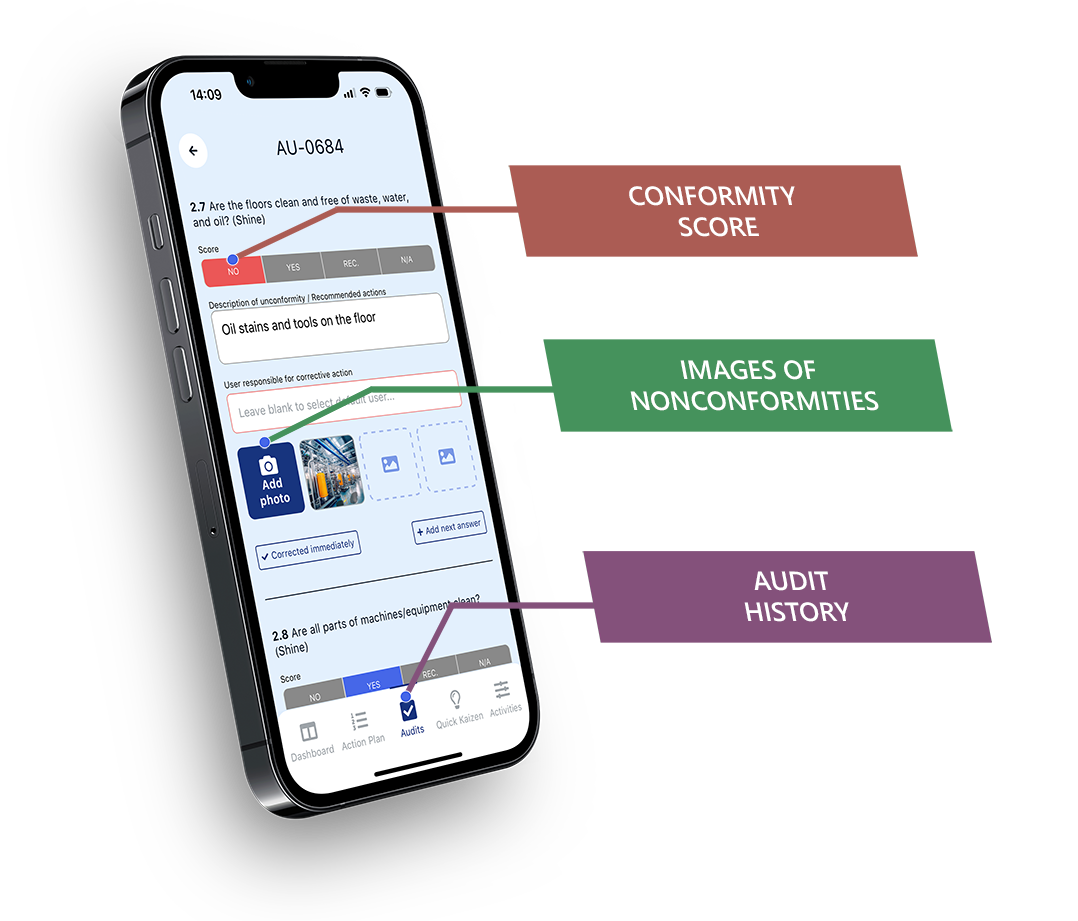 With Action Plan Pulse mobile application conducting audits will become convenient and hassle-free as never before.
As an auditor, you are assigned a list of audits to perform. You can also conduct an ad-hoc audit on a selected zone.
While performing an audit, you can easily add photos and a description of the observed non-compliances, as well as view the results of the previous audit.
Push notifications about assigned audits
Scheduled and on-demand (ad-hoc) audits
Adding photos and descriptions of non-compliances
Previous audit results preview
E-mail and push notifications
Precise information about tasks to take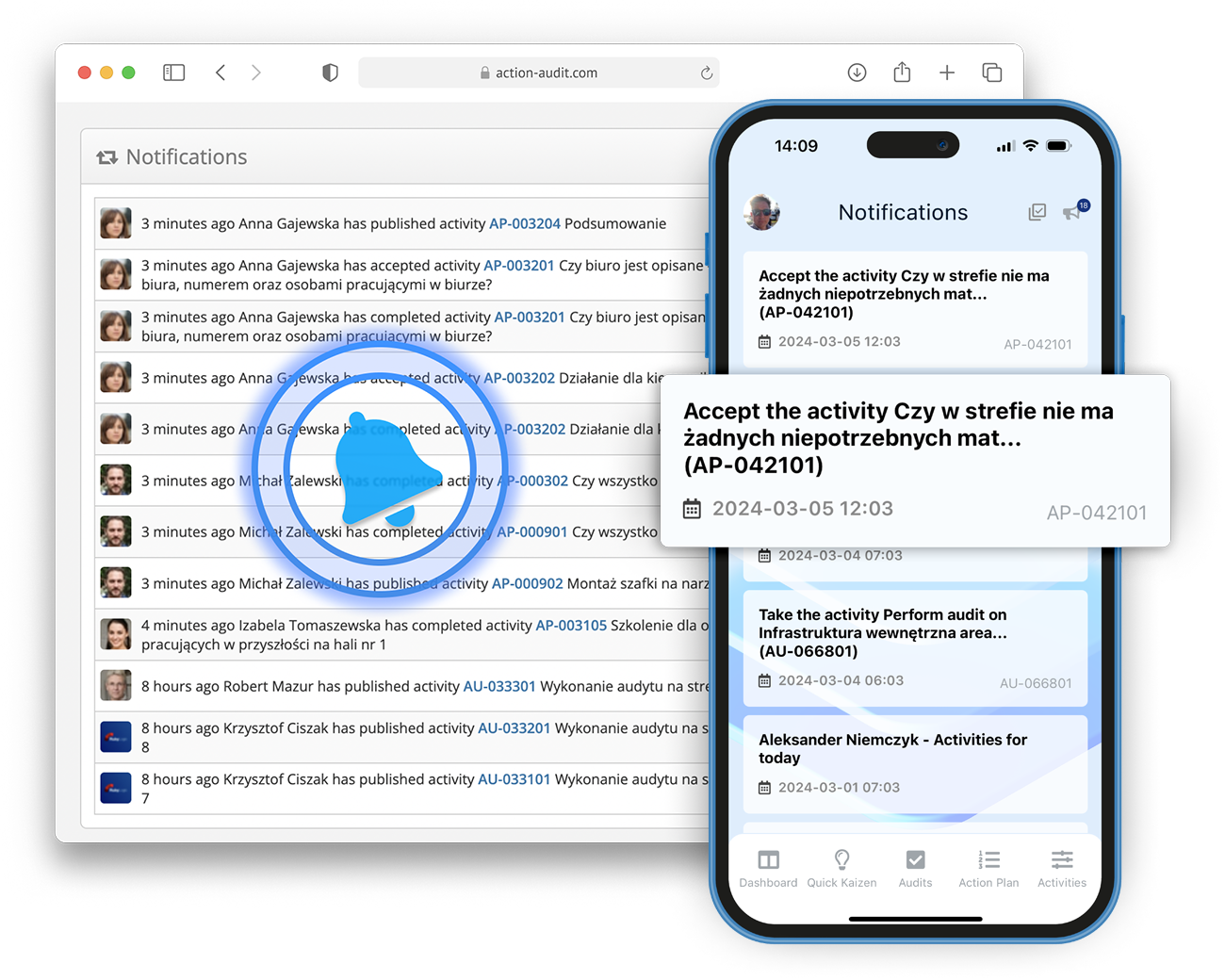 The auditing process, like any other business process in the organization, involves constant exchange of information between teammates.
Action Audit sends appropriate emails to those involved in the process, and also push notifications to users of the Action Plan Pulse mobile application.
Push notifications can be annoying. We understand this and that's why you can specify a precise shipping schedule, e.g. Monday to Friday between 9am and 5pm.
Push notifications and emails
Information about scheduled audits
Orders to undertake post-audit corrective actions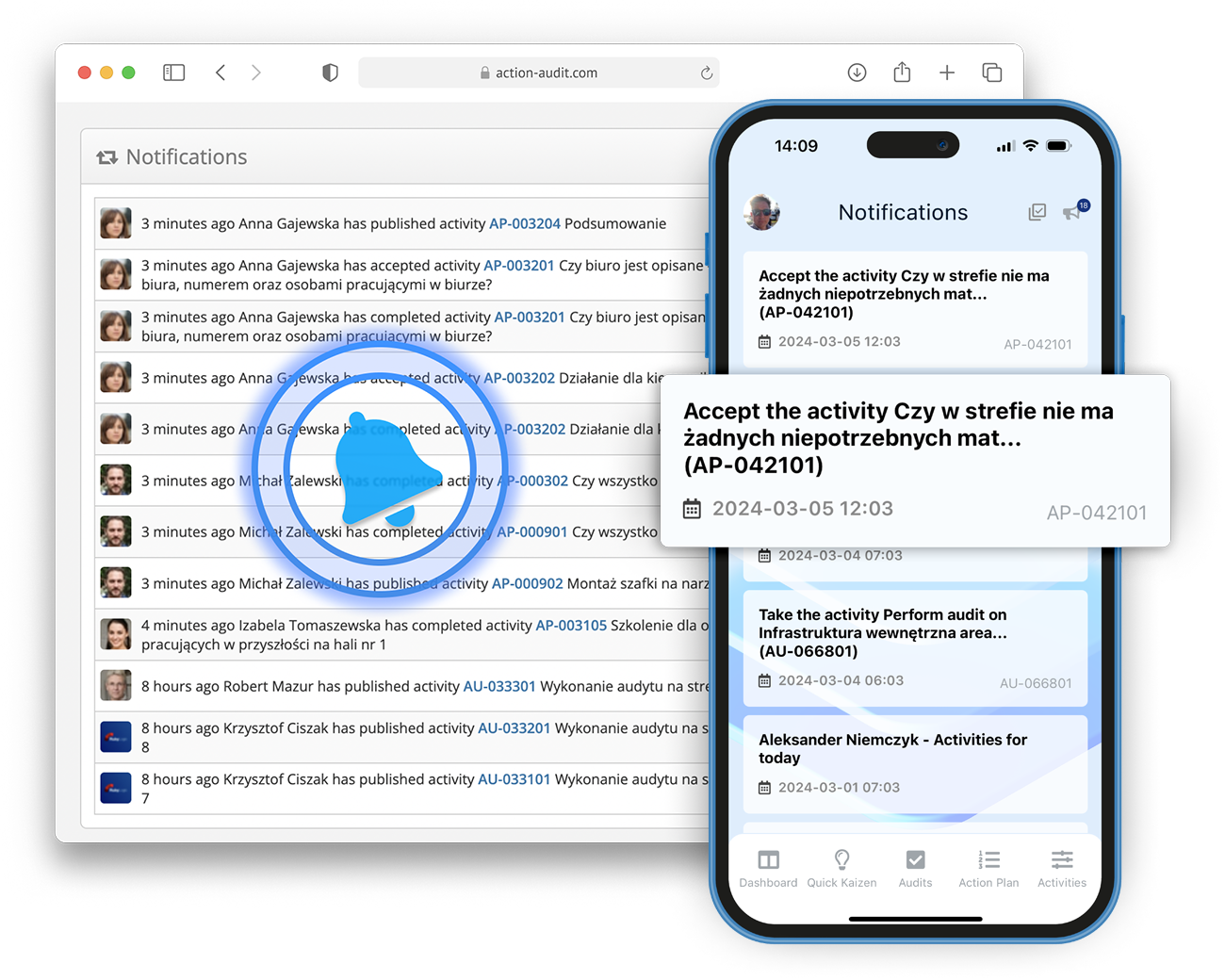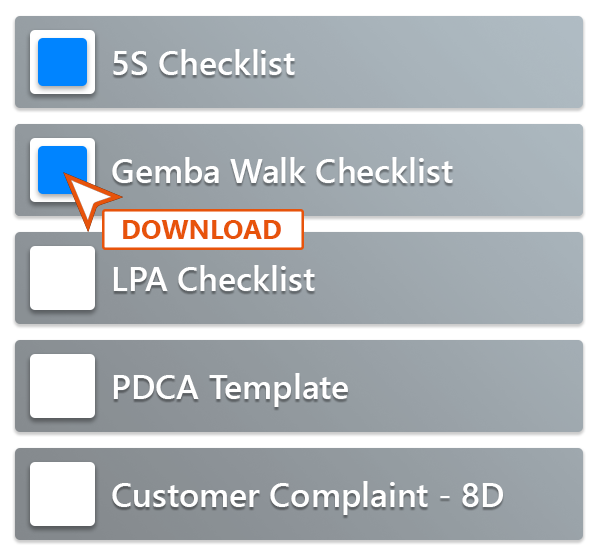 Built-in knowledge base
Don't have your procedures ready? With Action Audit it's not a problem.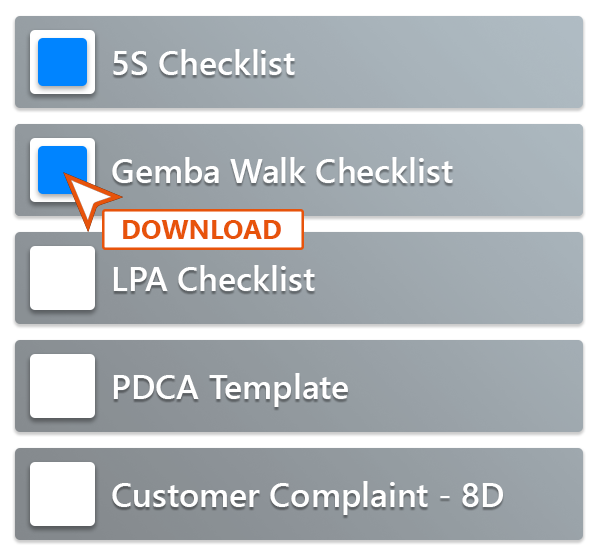 Action Audit comes with a built-in knowledge base containing checklists for the most common types of audits, including: 5S/6S, LPA, Gemba Walk, Safety Walk, ISO 9001, ISO 14001, ISO45001.
In addition, the database includes templates for other processes often used in organizations, including: Deming Cycle (PDCA), 8D Complaints Handling or 5W2H problem description.
Predefined audit checklists
Process and Lean tool templates
Constantly expanding knowledge base
Reports available in real time
Draw conclusions and improve processes using ready-made analyzes and reports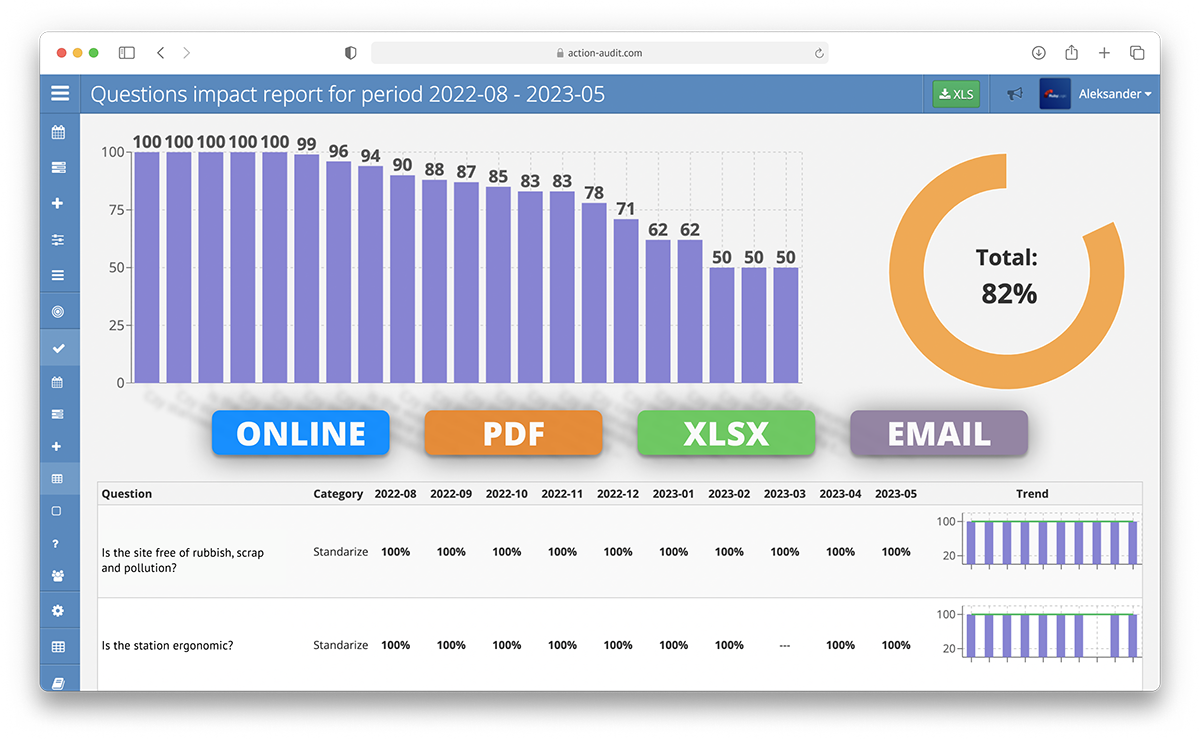 In Action Audit, you can specify parameters and generate any report in a few clicks. You have at your disposal one of many types of summary reports, including: audit results report, question impact report, auditors' diligence report, as well as a report of the results of a single audit.
Responding to customer needs, we are constantly expanding the range of available reports, thus providing further analytical tools so necessary in the everyday work.
Advanced analysis and tabular reports
Audit results report online and for printing
Data export to XLSX for further analysis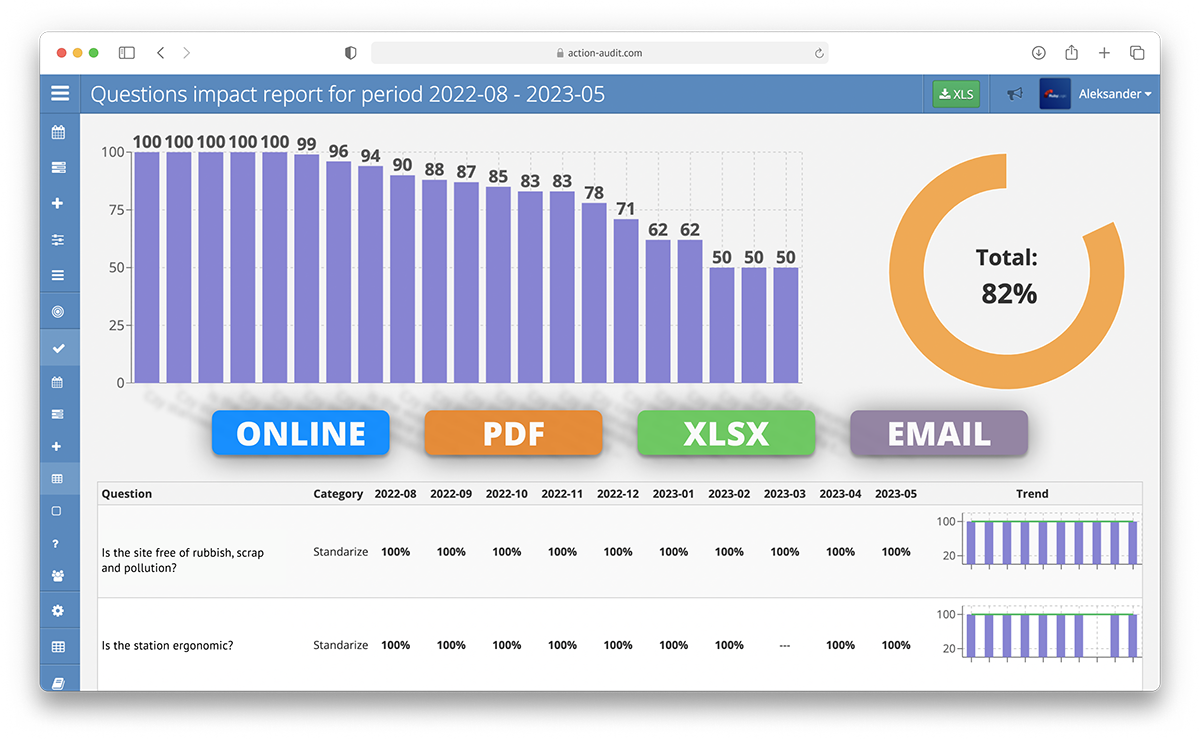 This many world class manufacturers can't be wrong!
Major European automotive Tier 1 manufacturers have already discovered the tremendous impact that Action Audit can have on raising their auditing effectiveness.
Simple implementation with all the guidance you require
We can help you implement our high-impact solution in as little as 2 days, in three simple steps:
Step 1
You define the parameters and level of user access
Step 2
We prepare a dedicated Action Audit software for you
Step 3
We help you onboard users and start using the tool
We'll also make sure you and your team get all the training and configuration support you need to make sure you get the most out of our online auditing platform.
Plans fit for needs of your organization
We know that a proper evaluation of a new tool within an organization could take time. That is why we offer a 30-day free trial.
Standard
per user per month
50 audit zones
10 checklists
Next business day support
Standard configuration
10 GB of storage for attachments
---
Everything in previous plan, plus:
Audit execution via mobile
Attaching photos to audits
Automatic corrective action plans
Full reporting
Access to predefined checklist including: 5S/6S, HSE, Gemba Walk
Unlimited audit zones
Unlimited checklists
24/7 support
Advanced configuration
20 GB of storage for attachments
---
Everything in previous plan, plus:
Company branding on reports
Support for ISO 9001, ISO 14001 & ISO 45001 audits
Predefined ISO 9001, ISO 14001 & ISO 45001 checklists
Project management online tools integration (Asana, Trello, Monday.com)
Check which plan suits you best
Choose your plan and select the number of users. Please ensure to include the individuals responsible for corrective actions, system administrators and auditors if you selected the Action Audits plan.